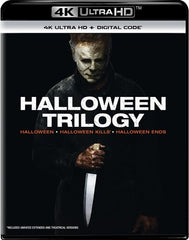 Halloween Trilogy (4K Ultra HD 3 Pack+ Digital Copy) 4K Ultra HD Rated: R 2022 Release Date: 12/27/2022
Three-disc set includes: Halloween (2018)Ignoring all sequels and remakes, this direct follow-up to the 1978 horror classic finds Laurie Strode (Jamie Lee Curtis) still suffering from PTSD due to her encounter with masked killer Michael Myers 40 years earlier.
When Myers returns to Haddonfield on Halloween, he'll have to contend with Laurie, who's had four decades to prepare for his arrival, and will stop at nothing to protect her family and take Michael down for good. With Judy Greer, Andi Matichak, Will Patton, Haluk Bilginer. 106 min. C/Rtg: R Halloween Kills (2021)In the aftermath of 2018's "Halloween," Michael Myers emerged from the fiery deathtrap sprung by perennially pursued Laurie Strode (Jamie Lee Curtis) burned but unbowed.
However, the town of Haddonfield has had it, as a mob fueled by generations of fear and anger quickly takes to the streets-but actually delivering vigilante justice to the undying monster may be something else again. Fright-filled follow-up co-stars Judy Greer, Anthony Michael Hall, Andi Matichak, Will Patton. R-Rated version; 105 min./Extended version; 109 min. C Halloween Ends (2022)Trying to find closure after her last terrifying face-off with Michael Myers, Laurie Strode (Jamie Lee Curtis) played matchmaker between granddaughter Allyson (Andi Matichak) and Corey (Rohan Cunningham), a troubled local kid whose past was also marked by violent tragedy. An unforgiving Haddonfield, though, is going to push Corey to snap-and a resurfaced Michael might have found a mentee in mayhem. Fear franchise showdown also stars Will Patton, Kyle Richards. 111 min. C/Rtg: R Widescreen; Soundtracks: English, French, Spanish; Subtitles: English (SDH), French, Spanish; deleted scenes; extended scenes; featurettes; gag reel; audio commentary.
UPC: 191329237984

DIRECTOR: David Gordon Green

RATED: R

GENRE: Horror
THEME: Halloween

RELEASE DATE: 12/27/2022

PRODUCT ID: MHV1000822975UHD

ORIGINAL LANGUAGE: ENG

RUN TIME: 322 minutes

DISTRIBUTOR/STUDIO: Universal Studios

NUMBER OF DISCS: 3

WEIGHT: .29 lb