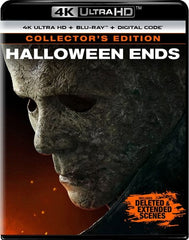 Halloween Ends (4K Ultra HD+Blu-ray+Digital Copy) 4K Ultra HD Rated: R 2022 Release Date: 12/27/2022
Trying to find closure after her last terrifying face-off with Michael Myers, Laurie Strode (Jamie Lee Curtis) played matchmaker between granddaughter Allyson (Andi Matichak) and Corey (Rohan Cunningham), a troubled local kid whose past was also marked by violent tragedy.
An unforgiving Haddonfield, though, is going to push Corey to snap-and a resurfaced Michael might have found a mentee in mayhem. Fear franchise showdown also stars Will Patton, Kyle Richards. 111 min. Widescreen; Soundtrack: English. Two-disc set.