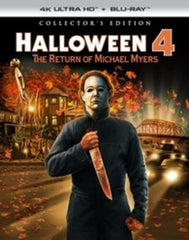 Halloween 4: The Return of Michael Myers (4K Ultra HD+Blu-ray) 2021 Release Date: 10/5/2021
Move over, Freddy and Jason, because Michael Myers is coming back! After spending 10 years in a prison asylum, Michael escapes and heads for the town where his bloody killing spree took place in order to find-and most assuredly attempt to murder-his own niece, Jamie Lloyd (Danielle Harris).
Donald Pleasence, Ellie Cornell, Michael Pataki, Beau Starr, and George P. Wilbur co-star. 88 min. Widescreen; Soundtrack: English; Subtitles: English. Two-disc set.