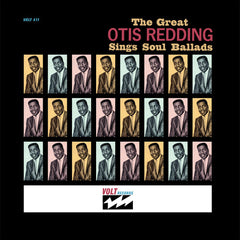 Otis Redding: Great Otis Redding Sings Soul Ballads (140 Gram Vinyl Clear Vinyl Blue LP) Mono Sound) 2023 Release Date: 1/6/2023
Vinyl LP pressing. The Great Otis Redding Sings Soul Ballads, simply referred to as Soul Ballads or Sings Soul Ballads, is the second studio album by American soul singer-songwriter Otis Redding, released in 1965.
The album was one of the first issued by Volt Records, a sub-label of Stax Records, and Redding's first on the new label. Like Redding's debut Pain in My Heart, Soul Ballads features both soul classics and originals written by Redding and other Stax Records recording artists. The recording sessions took place at the Stax studios in Memphis. The album features the Booker T. & the M.G.'s, the horn section Memphis Horns and the pianist Isaac Hayes, who possibly first appeared on this album, although this is disputed, as he was not credited on the liner notes. 
- Disc 1 -

1

 That's How Strong My Love Is

2

 Chained and Bound

3

 Woman, Lover, a Friend

4

 Your One and Only Man

5

 Nothing Can Change This Love

6

 It's Too Late

- Disc 2 -

1

 For Your Precious Love

2

 I Want to Thank You

3

 Come to Me

4

 Home in Your Heart

5

 Keep Your Arms Around Me

6

 Mr. Pitiful
LABEL: Atlantic

UPC: 603497837700

GENRE: Soul/R & B

RELEASE DATE: 1/6/2023

PRODUCT ID: ATL91706B.1

WEIGHT: .51 lb