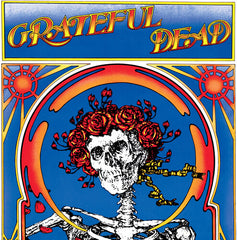 Grateful Dead (Skull & Roses) (Live) (Remastered) (LP) 1971 Release Date: 8/13/2021
Description
For the Grateful Dead's second live album, released two years after its predecessor LIVE/DEAD, the band delivered an equally magnificent, but entirely different, Grateful Dead sound.
Whereas LIVE/DEAD was a perfect sonic encapsulation of the band at the peak of their Primal Dead era, SKULL & ROSES captures the quintessential quintet, the original five piece band, playing some of their hardest hitting rock 'n' roll ('Johnny B. Goode,' 'Not Fade Away'), showing off their authentic Bakersfield bona fides ('Me
Not only did SKULL & ROSES serve up supremely fine tunes, it was also the one that scored the Grateful Dead their very first Gold record, introduced the world to the iconic skeleton babe Bertha, and asked the questions - Who are you? Where are you? How are you? - giving birth to the first official generation of Dead Heads.
DEAD FREAKS reunite on June 25th for the release of the remastered original album on 180-gram black vinyl 2LP.
- Disc 1 -

1

 Bertha (Live at the Fillmore East, New York, NY, April 27, 1971) [2021 Remaster]

2

 Mama Tried (Live at the Fillmore East, New York, NY, April 26, 1971) [2021 Remaster]

3

 Big Railroad Blues (Live at the Fillmore East, New York, NY, April 5, 1971) [2021 Remaster]

4

 Playing in the Band (Live at the Fillmore East, New York, NY, April 6, 1971) [2021 Remaster]

- Disc 2 -

1

 The Other One (Live at the Fillmore East, New York, NY, April 28, 1971) [2021 Remaster]

- Disc 3 -

1

 Me & My Uncle (Live at the Fillmore East, New York, NY, April 29, 1971) [2021 Remaster]

2

 Big Boss Man (Live at the Fillmore East, New York, NY, April 26, 1971) [2021 Remaster]

3

 Me & Bobby McGee (Live at the Fillmore East, New York, NY, April 27, 1971) [2021 Remaster]

4

 Johnny B. Goode (Live at the Fillmore East, New York, NY, March 24, 1971) [2021 Remaster]

- Disc 4 -

1

 Wharf Rat (Live at the Fillmore East, New York, NY, April 26, 1971) [2021 Remaster]

2

 Not Fade Away / Goin' Down the Road Feeling Bad (Live at the Fillmore East, New York, NY
Label: Grateful Dead / WEA

Number of Discs: 2

UPC: 603497844401

Genre: Rock

Release Date: 8/13/2021

Product ID: GRDW1935.1

Weight: 1.42 lbs