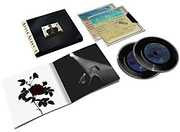 Grace Jones: Warm Leatherette Deluxe Expanded Two CD Edition 2016 06-24-16 Release Date
Digitally remastered and expanded deluxe two CD edition. Warm Leatherette represents a watershed moment in the career of Grace Jones. The first of her much loved and critically-lauded 'Compass Point trilogy' it saw the star embrace contemporaneous new wave (The Normal's 'Warm Leatherette', The Pretenders' 'Private Life'), old soul (The Marvelettes' 'The Hunter Gets Captured By The Game' and leftfield rock (Tom Petty and the Heartbreakers' 'Breakdown', Roxy Music's 'Love Is The Drug'). 
All sounded like nothing you'd ever heard before once Grace had finished with them. Coming in stylish leatherette casing, it's a perfect demonstration of players, writers and production team at the very top of their game, headed up by a singular performer reaching the apex of her career to that point.
Disc 1 -

1

 Warm Leatherette

2

 Private Life

3

 A Rolling Stone

4

 Love Is the Drug

5

 The Hunter Gets Captured By the Game

6

 Bullshit

7

 Breakdown

8

 Pars

9

 Warm Leatherette (Long Version) 5.35

10

 Private Life (Long Version) 6.17

11

 A Rolling Stone (Long Version) 5.43

12

 Love Is the Drug (Long Version) 8.38

13

 The Hunter Gets Captured By the Game (Long Version) 6.44

14

 Pars (Long Version) 5.41

- Disc 2 -

1

 Private Life (Long Version 2) 7.55

2

 Private Life (Dub Version) 8.04

3

 She's Lost Control (Long Version) 8.23

4

 She's Lost Control (Dub Version) 8.38

5

 Love Is the Drug (Single Version) 4.41

6

 Private Life (Single Version) 4.37

7

 She's Lost Control (Single Version) 3.46

8

 The Hunter Gets Captured By the Game (Special Single Version) 3.21

9

 Breakdown (U.S. Single Edit) 3.00

10

 Pars (Single Version) 4.24

11

 Pars (Dub Version) 4.41

12

 Love Is the Drug (12" Single Remix) 7.23

13

 Private Life (12" Single Remix) 7.04
Label: Island

Release Date: 6/24/2016

Genre: Dance

UPC: 600753660713

Product ID: IMT5075319BA

Weight: .28 lb

Last Return Date: 6/24/2016

This is an import product