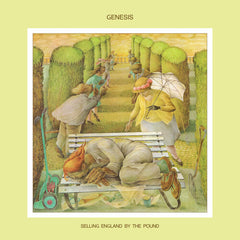 Genesis: Selling England By The Pound 1973 (140 Gram Vinyl Clear LP) 2023 Release Date: 1/6/2023 CD Also Avail
Reissue featuring the 2008 mix of this album by Nick Davis and Genesis. Genesis has always been known for their sense of spectacle and their groundbreaking live shows, as much as their ambitious studio albums like SELLING ENGLAND BY THE POUND (1973).   
Over the last four decades, the group has sold 150 million albums worldwide and has influenced the likes of Elbow, Flaming Lips and Jeff Buckley.  

1

 Dancing with the Moonlit Knight (New Stereo Mix)

2

 I Know What I Like (In Your Wardrobe) [New Stereo Mix]

3

 Firth of Fifth (New Stereo Mix)

4

 More Fool Me (New Stereo Mix)

5

 The Battle of Epping Forest (New Stereo Mix)

6

 After the Ordeal (New Stereo Mix)

7

 The Cinema Show (New Stereo Mix)

8

 Aisle of Plenty (New Stereo Mix)
Label: Atlantic

UPC: 603497837694

Genre: Rock

Release Date: 1/6/2023

Product ID: ATL516781B.1

Weight: .56 lb
CD INFO