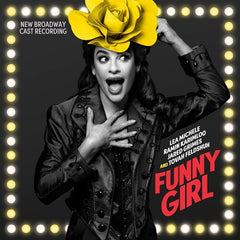 Funny Girl: New Broadway Cast of Funny Girl (CD) 2023 Release Date: 1/20/2023
Sony Masterworks Broadway, in partnership with producers Sonia Friedman, Scott Landis and David Babani, Accident Jacket Productions and Gemini Theatrical, is proud to announce the release of the FUNNY GIRL New Broadway Cast Recording. Starring Emmy Award Nominee Lea Michele as Fanny Brice, Tony and Olivier Award nominee Ramin Karimloo as Nick Arnstein, the cast also features Tony & Drama Desk Award Nominee Jared Grimes and four-time Tony Award nominee Tovah Feldshuh.
This bittersweet comedy is the story of the indomitable Fanny Brice, a girl from the Lower East Side who dreamed of a life on the stage. Everyone told her she'd never be a star, but then something funny happened—she became one of the most beloved performers in history, shining brighter than the brightest lights of Broadway. Featuring some of the most iconic songs in theatre history including "Don't Rain On My Parade," "I'm the Greatest Star," and "People," this bold new production marks the first time FUNNY GIRL has returned to Broadway since its debut 58 years ago.
Tony Award winner Michael Mayer directs this brand-new FUNNY GIRL, featuring the classic score by Tony, Grammy and Academy Award winner Jule Styne and lyrics by Tony Award nominee and Grammy Award winner Bob Merrill. The original book by Isobel Lennart is revised by Tony Award winner Harvey Fierstein.
FUNNY GIRL / NEW BROADWAY CAST 
1

 Overture

2

 Who Are You Now?

3

 If a Girl Isn't Pretty

4

 I'm the Greatest Star

5

 Eddie's Tap

6

 Cornet Man

7

 His Love Makes Me Beautiful

8

 I Want to Be Seen with You

9

 Henry Street

10

 People

11

 You Are Woman, I Am Man

12

 Don't Rain on My Parade

13

 Sadie, Sadie

14

 Who Taught Her Everything She Knows

15

 Temporary Arrangement

16

 Rat-Tat-Tat-Tat

17

 Who Are You Now? (Reprise)

18

 You're a Funny Girl / Beekman Call

19

 What Do Happy People Do

20

 The Music That Makes Me Dance

21

 Dream Ballet

22

 Finale Act 2