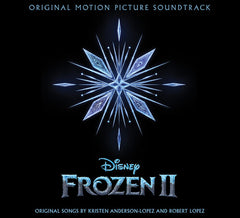 Frozen 2: The Songs (Various Artists) Artist: Various Artists CD Release Date 11/15/19
Original soundtrack to the 2019 animated motion picture. Anna, Elsa, Kristoff, Olaf and Sven leave Arendelle to travel to an ancient, autumn-bound forest of an enchanted land.
They set out to find the origin of Elsa's powers in order to save their kingdom. Starring returning voice talents of Idina Menzel, Kristen Bell, Josh Gad, Jonathon Groff and featuring Evan Rachel Wood and Sterling K. Brown. Soundtrack includes all new music by Bobby and Kristen Lopez. 
1

 All Is Found - Evan Rachel Wood

2

 Some Things Never Change - Kristen Bell, Idina Menzel, Josh Gad, Jonathan Groff

3

 Into the Unknown - Idina Menzel, Aurora

4

 When I Am Older - Josh Gad

5

 Reindeer(S) Are Better Than People (Cont.) - Jonathan Groff

6

 Lost in the Woods - Jonathan Groff

7

 Show Yourself - Idina Menzel, Evan Rachel Wood

8

 The Next Right Thing - Kristen Bell

9

 Into the Unknown - Panic! at the Disco

10

 All Is Found - Kacey Musgraves

11

 Lost in the Woods - Weezer