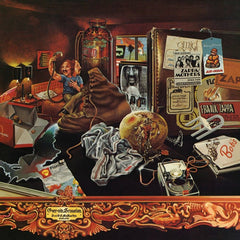 Frank Zappa: Over-Nite Sensation 1973 Reissue (LP) 2013 Release Date: 6/18/2013
2013 vinyl LP reissue. Musically wrought with Zappa's identifiable touch, this gatefold reissue of the 1973 classic LP gathers up 7 FZ classics that managed to bring a first gold album into his stash. Accompanied by "the Mothers," Frank jackhammered his way through boundary-pushing lyrics, funky rhythms, heavy rock guitar, implied messages of male stupidity, and as always, attacks at social consciousness and political correctness tucked in between. 
Never one to miss an opportunity to vent through his music, Zappa excels in "Camarillo Brillo," "I'm the Slime," "Dirty Love," "Fifty-Fifty." Zomby Woof," "Dinah-Moe Humm" and "Montana." Catch Tina Turner and the Ikettes with some uncredited backup vocals in the last cut. 
1

 Camarillo Brillo

2

 I'm the Slime

3

 Dirty Love

4

 Fifty-Fifty

5

 Zomby Woof

6

 Dinah-Moe Humm

7

 Montana
LABEL: Zappa Records

UPC: 824302385012

GENRE: Rock

RELEASE DATE: 6/18/2013

PRODUCT ID: ZPRC38501.1

WEIGHT: .84 lb