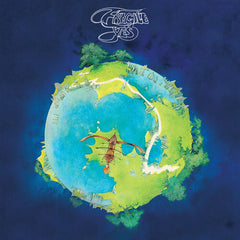 Yes: Fragile 1971 4th Studio Album (Clear Vinyl LP) 2023 Release Date: 1/6/2023
Limited 180 gram vinyl LP pressing. Fragile is the fourth studio album from progressive rock band Yes, originally released in November 1971 on Atlantic Records.
It is their first album recorded with keyboardist Rick Wakeman in the band's line-up after Tony Kaye was fired for having a lack of interest in learning more electronic keyboards. Formed of nine tracks, four are group performances while the remaining five are solo features written by each member. It's cover was designed by Roger Dean, who would design their future band logo, stage sets, and many of their future album covers. Fragile received a positive reception upon it's release and was a commercial and critical success, reaching #4 on the US Billboard Top LPs chart and #7 on the UK Albums Chart. "Roundabout" was released as a single in the US which reached #13 and is one of the band's best known songs.
- Disc 1 -

1

 Roundabout

2

 Cans and Brahms (Extracts from Brahms' 4th Symphony in E Minor, Third Movement)

3

 We Have Heaven

4

 South Side of the Sky

- Disc 2 -

1

 Five Per Cent for Nothing

2

 Long Distance Runaround

3

 The Fish (Schindleria Praemeturus)

4

 Mood for a Day

5

 Heart of the Sunrise
LABEL: Atlantic

UPC: 603497838240

GENRE: Rock

RELEASE DATE: 1/6/2023

PRODUCT ID: ATL7211.1

LAST RETURN DATE: 1/6/2023

THIS PRODUCT IS NON-RETURNABLE

WEIGHT: .85 lb