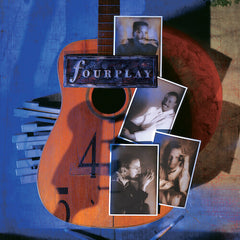 Fourplay 1991 (30th Anniversary Edition) (SACD) Hybrid Multi-Channel HiRES 2021 Release Date: 12/24/2021
There was no great cunning master plan that brought noted jazz instrumentalists Bob James Keyboards, Lee Ritenour Guitar, Nathan East Bass and Harvey Mason Drums together to form a supergroup.  AUDIO IS OUTSTANDING!!!
Released in October 1991, Fourplay - aided by the success of the smash single 'After The Dance' - peaked at No. 1 in America' s Contemporary Jazz charts for 33 weeks and sold over a million copies. It rose to No. 16 in the R& B rankings and No. 97 in America' s list of top pop records, The Billboard 200.
Thanks to the group' s impeccable musicianship and it's internal creative chemistry, Fourplay created an immediately identifiable signature sound, setting the gold standard for smooth jazz in the 1990s. Now three decades old, the band s self - titled debut album was not only the blueprint for the group's sound but also functioned as a foundation stone upon which Fourplay built a remarkable career. Originally released in September 1991, Fourplay is now reissued by evosound, to celebrate the album's 30th Anniversary, as a multi-channel hybrid SACD including a 5.1 surround mix. A previously unreleased long version of 'After The Dance' is included as a bonus track Only available in stereo. The remastering of the album was undertaken using the high-resolution digital transfers from the original analogue master tapes. The hybrid multi-channel SACD plays on both SACD and regular CD players.
1

 Bali Run

2

 101 Eastbound

3

 Foreplay

4

 Moonjogger

5

 Max-O-Man

6

 After the Dance (Feat. Ei Debarge)

7

 Quodrille

8

 Midnight Stroll

9

 October Morning

10

 Wish You Were Here

11

 Rain Forest

12

 After the Dance{Long Version}(Feat. Ei Debarge)
LABEL: Evosound
VENDOR: Evolution Ltd
DISTRIBUTOR: AMPED

UPC: 4897012133668

GENRE: Jazz

RELEASE DATE: 12/24/2021

PRODUCT ID: EVSU570SACD

WEIGHT: .25 lb