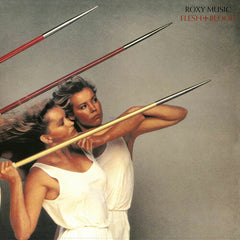 Roxy Music: Flesh And Blood 1980 (Half-Speed Mastering LP) 2022 Release Date: 7/1/2022
Flesh + Blood gave Roxy Music their second #1 album in the UK when it was released in May 1980. It was preceded by the single "Over You," a #5 UK hit that also provided the band with a rare entry on Billboard's Hot 100 at #80. Flesh + Blood also included covers of The Byrds' "Eight Miles High" and Wilson Pickett's "In the Midnight Hour." Each Roxy Music album has been reissued with a fresh half-speed cut by Miles Showell at Abbey Road Studios, London.
To reflect the audio, all eight of the Roxy Music studio albums have had their artwork revised and with a gloss-laminated finish, so that each album is not just a record - it's a piece of art. 
- Disc 1 -

1

 In the Midnight Hour

2

 Oh Yeah!

3

 Same Old Scene

4

 Flesh and Blood

5

 My Only Love

- Disc 2 -

1

 Over You

2

 Eight Miles High

3

 Rain, Rain, Rain

4

 No Strange Delight

5

 Running Wild
LABEL: Republic

UPC: 602507460273

GENRE: Misc Product

RELEASE DATE: 7/1/2022

PRODUCT ID: RPBL746027.1

WEIGHT: .73 lb