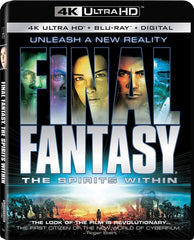 Final Fantasy: Unleash A New Reality The Spirits Within (4K Ultra HD+Blu-ray+Digital) 2021 Release Date: 11/16/2021
 Groundbreaking computer-animated feature takes the world of the popular video games to a new level. On a battle-ravaged 2065 Earth, brilliant scientist Dr. Aki Ross and an elite military squad try to stop marauding aliens from destroying humanity.
The answer may lie with mysterious "spirits" deep inside the Earth, but can Ross find them before twisted General Hein unleashes a dangerous "space cannon"? Voices by Alec Baldwin, Ming-Na, Donald Sutherland, James Woods, Steve Buscemi and Ving Rhames. 106 min. Widescreen (Enhanced); Soundtracks: English Dolby Atmos, Dolby Digital 5.1, French PCM 5.1; Subtitles: English (SDH), Korean, Mandarin, Spanish, Portuguese, Thai.
Starring: Peri Gilpin, Alec Baldwin, Steve Buscemi, Donald Sutherland, James Woods

UPC: 043396576896

Director: Hironobu Sakaguchi

Rated: PG13

Genre: Horror
Theme: Final Fantasy

Release Date: 11/16/2021

Product ID: CTR57689UHD

Subtitles: ARB, CHN, CRO, CZE, DAN, DUT, ENG, FIN, FRE, GER, GRK, HEB, HIN, HUN, ICE, ITA, KOR, NOR, POL, POR, ROM, RUS, SLV, SPA, SWE, THA, TUR

Closed Caption: Yes

Dubbed: CZE, FRE, GER, HUN, ITA, SPA, THA

Original Language: ENG

Original Year: 2021

Run Time: 106 minutes

Distributor/Studio: Sony Pictures

Number of Discs: 2

Weight: .22 lb