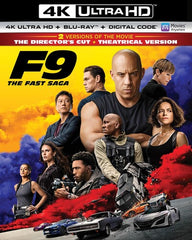 F9: The Fast Saga (4K Ultra HD+Blu-ray+Digital Copy) 4K Ultra HD Rated: PG13 2021 Release Date: 9/21/2021
While Dom Toretto (Vin Diesel) and his crew might have had their eyes on anonymous retirement, he hadn't counted on the determination that thwarted terrorist Cipher (Charlize Theron) had for vengeance, or the stunning alliance she'd strike to get it-with Toretto's long-embittered assassin kid brother Jakob (John Cena).
Ninth installment in the high-endurance action franchise co-stars Michelle Rodriguez, Tyrese Gibson, Ludacris, Jordana Brewster, Kurt Russell, and Helen Mirren. 145 min. Widescreen; Soundtrack: English. Two-disc set.