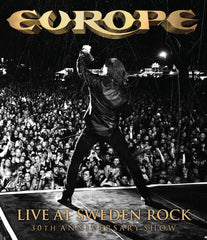 Europe: 30th Anniversary Live Sweden Rock Festival 2013 (Blu-ray) 2013 Release Date 11/5/13
This concert which was filmed at Sweden Rock Festival in June 2013 is not only a massive greatest hits show in front of 30,000 people, it also marks the 30th anniversary of the band.
They celebrate by playing 28 songs spanning their whole career. Between the heavy rock songs they also sit down for an emotional acoustic set which brings an intimate feel to this otherwise massive arena show.
STARRING: Europe

UPC: 760137607892

DIRECTOR: Patric Ullaeus

RELEASE DATE: 11/5/2013

PRODUCT ID: TLTT6078BR

CLOSED CAPTION: No

ORIGINAL YEAR: 2013

RUN TIME: 90 minutes

DISTRIBUTOR/STUDIO: Talent Tru

WEIGHT: .2 lb