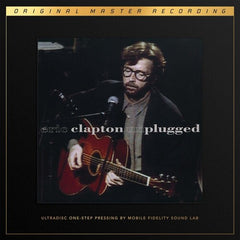 Eric Clapton: Unplugged 1992 (2 LP 180 Gram 45 RPM) Mobile Fidelity Collectors Edition Vinyl Limited Edition 2022 Release Date: 6/17/2022
NO FUTHER DISCOUNTS CAN APPLY 
MASTERED FROM THE ORIGINAL MASTER TAPES AND LIMITED TO 10, 000 NUMBERED COPIES  



Eric Clapton's Unplugged is far more than an album. It remains a majestic picture of a moment in time; an unvarnished glimpse into the soul of one of music's most legendary artists; a visionary journey into the inspirations that helped shape Clapton's character; a re-exploration and re-evaluation of deep-seated roots; a continuation of critical blues heritage; a building block on which a subgenre sprouted; a launching pad for both a later-career resurgence and discovery.
       A perennial audiophile favorite and the best-selling concert release of all time,

Unplugged now takes on an irresistible luster that veritably gives you a front-row seat at Bray Film Studios. Strictly limited to 10, 000 numbered copies, pressed on MoFi SuperVinyl at RTI, and mastered from the original master tapes,
Mobile Fidelity's ultra-hi-fi UltraDisc One-Step 180g 45RPM 2LP collector's edition enhances the blockbuster work for today

- and the ages to come. Surpassing the sonics of any prior version, it peels away any remaining limitations to provide a transparent, lively, ultra-nuanced presentation of a record that won six Grammy Awards - including prizes for Album of the Year, Best Male Rock Vocal Performance, and Best Rock Song.
      The expanse and depth of the soundstage, fullness of tones, natural snap and extension of the guitar strings, realistic rise and decay of individual notes, and roll of Clapton's vocals all attain demonstration-grade levels. Housed in a deluxe box, the UD1S Unplugged pressing features special foil-stamped jackets and faithful-to-the-original graphics that illuminate the splendor of the recording and the reissue's premium quality. No expense has been spared. Aurally and visually, this UD1S reissue exists as a curatorial artifact meant to be preserved, touched, and examined. It is made for discerning listeners that prize sound quality and production, and who desire to fully immerse themselves in the art - and everything involved with the album, from the images to the finishes. Truly, everything about Unplugged matters.
      Having sold more than 10 million copies in the U.S. and more than 26 million copies worldwide, the 1992 work resonates with listeners of all generations and speaks a universal language. Recorded for MTV before a very small audience on January 16, 1992, the 14-track set became the signpost for future acoustic-based endeavors that witnessed artists of all stripes re-examining their catalogs and, in many instances, as Clapton does here, placing familiar originals in fresh contexts and unveiling spirited versions of cover material. Needless to say, Clapton's session turned MTV's series into can't-miss programming for which the likes of Rod Stewart, Tony Bennett, Nirvana, Pearl Jam, and more would soon participate.