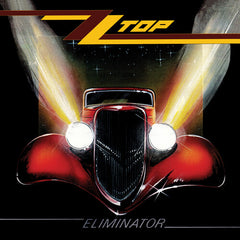 ZZ Top: Eliminator 1983 40th Anniversary (140 Gram Vinyl Colored Vinyl LP) 2023 Release Date: 1/6/2023
ZZ Top. It was released on March 23, 1983. Recorded in Tennessee during 1982, the album was produced by the band's manager Bill Ham and peaked at the top of the charts in many countries. "Gimme All Your Lovin'", "Got Me Under Pressure", "Sharp Dressed Man", "TV Dinners" and "Legs" were released as singles. A Diamond certified album, Eliminator is ZZ Top's most successful release with sales of over 10 million copies in the United States.
The band wanted to expand on the synthesizer sound of their 1981 record El Loco. Influenced by new wave, Eliminator′s tracks were recorded with a combination of the synthesizer, drum machine and sequencer. Often considered ZZ Top's most popular release, the record was ranked at #398 in Rolling Stone magazine's 500 Greatest Albums of All Time and was listed at #39 in The 100 Greatest Albums of the 80s. 
1

 Gimme All Your Lovin'

2

 Got Me Under Pressure

3

 Sharp Dressed Man

4

 I Need You Tonight

5

 I Got the Six

6

 Legs

7

 Thug

8

 TV Dinners

9

 Dirty Dog

10

 If I Could Only Flag Her Down

11

 Bad Girl
LABEL: Elektra / WEA

UPC: 603497837786

GENRE: Rock

RELEASE DATE: 1/6/2023

PRODUCT ID: EA23774.1

WEIGHT: .56 lb