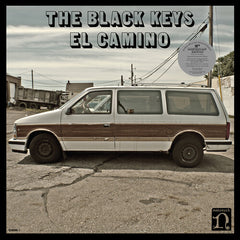 The Black Keys: El Camino Nashville 2011 (10th Anniversary Deluxe Edition (3 LP Box Set) 2021 Release Date: 11/5/2021

DESCRIPTION
This Deluxe 3LP Set contains: Original remastered album, previously unreleased full live concert 
El Camino was produced by Danger Mouse and The Black Keys and was recorded in the band's then-new hometown of Nashville during the spring of 2011.The Black Keys won three awards at the 55th annual GRAMMY Awards for El Camino– Best Rock Performance, Best Rock Song, and Best Rock Album—among other worldwide accolades.
In the UK, the band was nominated for a BRIT Award (Best International Group) and an NME Award (Best International Band).The week of release, the band performed on Saturday Night Live, the Colbert Report, and the Late Show with David Letterman, and later that year, went on to perform their first Madison Square Garden show.
In the UK, the record gave the band their first top 10 hit, and in the US it debuted at #2 on the Billboard Top 200. The band was also the #1 most played artist at Alternative and AAA radio formats for 2012 in the US. The album's first single, "Lonely Boy": reached #1 on the Alternative and AAA charts; it also entered the top 10 at Rock radio.The second single, "Gold on the Ceiling," also reached #1 on Alternative radio and the third single, "Little Black Submarines," reached the top 3 at Alternative radio.
El Camino (10th Anniversary Deluxe Edition 
- Disc 1 -

1

 Lonely Boy (21 Remaster)

2

 Dead and Gone (21 Remaster)

3

 Gold on the Ceiling (21 Remaster)

4

 Little Black Submarines (21 Remaster)

5

 Money Maker (21 Remaster)

- Disc 2 -

1

 Run Right Back (21 Remaster)

2

 Sister (21 Remaster)

3

 Hell of a Season (21 Remaster)

4

 Stop Stop (21 Remaster)

5

 Nova Baby (21 Remaster)

6

 Mind Eraser (21 Remaster)

- Disc 3 -

1

 Howlin' for You (Live in Portland, Me)

2

 Next Girl (Live in Portland, Me)

3

 Run Right Back (Live in Portland, Me)

4

 Same Old Thing (Live in Portland, Me)

5

 Dead and Gone (Live in Portland, Me)

6

 Gold on the Ceiling (Live in Portland, Me)

- Disc 4 -

1

 Thickfreakness (Live in Portland, Me)

2

 Girl Is on My Mind (Live in Portland, Me)

3

 I'll Be Your Man / Your Touch (Live in Portland, Me)

4

 Little Black Submarines (Live in Portland, Me)

- Disc 5 -

1

 Money Maker (Live in Portland, Me)

2

 Strange Times (Live in Portland, Me)

3

 Chop and Change (Live in Portland, Me)

4

 Nova Baby (Live in Portland, Me)

5

 Ten Cent Pistol (Live in Portland, Me)

- Disc 6 -

1

 Tighten Up (Live in Portland, Me)

2

 Lonely Boy (Live in Portland, Me)

3

 Everlasting Light (Live in Portland, Me)

4

 She's Long Gone (Live in Portland, Me)

5

 I Got Mine (Live in Portland, Me)