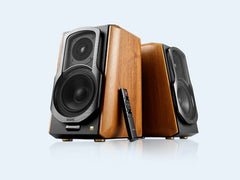 Edifier S1000DBMKII Powered Bluetooth 5.0 Wireless Active Bookshelf Speakers - 120 Watts - Free Priority Shipping USA ONLY
Edifier 4004988 S1000DBMKII Powered Bluetooth 5.0 Wireless Active Bookshelf Speakers Pair 120 Watts With Built in Amp and Multi Inputs Includes Remote Control and Cables (Brown)
Turn on the Speaker, Juice up the World - S1000MKII Audiophile Active Bookshelf 2.0 Speaker
Product Features
120 Watts Stunning Sound Performance - A new Class D Amp boosts the system's already impressive power to a new height, crank the volume while still maintaining crystal clear audio.
Bluetooth 5.0 with aptX HD Decoding - Stream high-quality audio wirelessly with reduced latency and increased stability.
Titanium Dome Tweeter - A titanium dome is a high-quality unit that can only use in hi-fi level high-end speakers. Restore high-frequency signals up to 40KHz to obtain a clearer, brighter, transparent, and pure tone.
Simpler but Much More Stylish - Aluminum bass speaker for surge and wave bass, pure sound with advanced titanium dome tweeter. Designed with classic wooden side panels, the S1000 MKII is angled to ensure front-facing drivers positioned for optimum performance without compromise.
Metal Diaphragm, Medium Bass Unit - The 5.5-inch aluminum alloy mid-woofer unit has the characteristics of high strength and low distortion. By the precise analysis of the KLIPPEL system in Germany and the advantages of DSP full digital electronic frequency divider, the performance of the unit is more accurate, faster, cleaner, and more powerful.
DSP Digital Audio Processing - Built-in Texas instruments DSP professional audio processing chip TLV320AIC3254, and use its miniDSP to complete electronic frequency division and dynamic management for accurate control of frequency division point, so that the speaker can better display the sound details.
Multiple Inputs Connection - With its optical, coaxial, and auxiliary inputs, it can connect to multiple devices such as TV sets, TV boxes, Blu-ray player, game console, CD player, DVD, mobile phone, computer, tablet, or other devices.
Wireless Remote Control - Swap inputs, playback, or adjust the volume with the included remote while still able to sit on the sofa, help you to take full control of your sound wirelessly.
TOTAL POWER OUTPUT: RMS 25W×2(Treble) +35W×2(Mid-range bass)
FREQUENCY RESPONSE: 45Hz~40KHz
MIDRANGE / BASS UNIT: 5.5 inch
SIGNAL-TO-NOISE RATIO: ≥ 90dBA
INPUT SENSITIVITY: Line in 1:750±50mV / Line in 2 :900±50mV OPT, COX: 350 mFFs ± 50 mFFs Bluetooth: 450±50mV
Treble Unit: 1 Inch
Includes: RCA to RCA cable, RCA to 3.5mm cable, Speaker Connecting cable, Remote Control, User Manual
Brand: Edifier
UPC:

875674004988

Product ID:

EDF04988

Weight: 40.7 lbs

Available Date: 10/25/2020

Model Number: 4004988