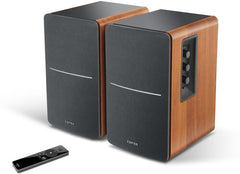 Edifier R1280Ts Powered Bookshelf Speakers - 42 Watts - With Subwoofer Output - Free Priority Shipping USA ONLY
Edifier 4004957 R1280Ts Powered Bookshelf Speakers with Subwoofer Output Includes Remote Control 42 Watts Walnut look (Brown)
Studio-Quality Sound - 42W RMS undistorted power, 4-inch bass driver, and ½ inch silk dome tweeter produce solid studio-quality sound that is ideal for gaming, movies, and music. Connect to your computer, home theater, and more..
Product Features
Soundfield Spatializer simulates a larger soundstage with the touch of a button. This unique feature creates wide-filed sound by optimizing each channel, sending out opposite signals to eliminate mutual interference and improve separation.
Removable Mesh Grill
Precise Controls - Convenient dials on the side panel of the speaker allows you to adjust the bass, treble, and volume.
Wireless Remote - Adjust volume, mute/unmute, and select sound field extension with the wireless remote, no need to leave the couch.
Sub-out Interface and more - When connected the sub-out automatically detects the subwoofer and activates the digital crossover. Dual RCA inputs allow you to connect to two devices at a time. Connect to your devices such as phone, PC, laptop, tablet, or gaming console with RCA to RCA audio cable, and 3.5 mm-RCA audio cable, eliminates the need to switch cables.
Classic Wood Finish - These outstanding speakers are made from MDF wood with a walnut finish-vinyl, designed to prevent resonance. A great addition to your living room, office, or study.
Total Power Output - R/L: 21W+21W RMS
SIGNAL-TO-NOISE RATIO - ≥85dB(A)
INPUT SENSITIVITY" - LINE IN 1: 500mV±50mV, LINE IN 2: 700mV±50mV
DRIVER UNIT- Φ13mm tweeter unit + 4-inch mid-woofer
FREQUENCY RESPONSE - 52Hz-20KHz
Includes Remote control, Speaker connecting cable, RCA to RCA cable, 3.5mm to RCA Cable
Brand: Edifier
UPC:

875674004957

Product ID:

EDF04957

Weight: 11.78 lbs

Available Date: 1/1/2021

Model Number: 4004957