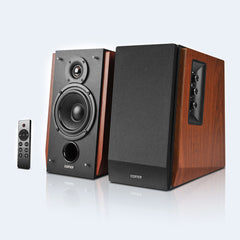 Edifier 4004971 R1700BTs Powered Bluetooth 5.0 Wireless Bookshelf Speakers - 66 Watts - Free Priority Shipping USA ONLY
Edifier 4004971 R1700BTs Powered Bluetooth 5.0 Wireless Bookshelf Speakers Pair 66 Watts With Built in Amp and Multi Inputs Includes Remote Control and Cables (Brown)
Rich and Detailed Sound - R1700BTs Active Bluetooth Bookshelf Speakers
Product Features
Soundfield Spacializer - Soundfield Spatializer simulates a larger soundstage with the touch of a button. This unique feature creates wide-filed sound by optimizing each channel, sending out opposite signals to eliminate mutual interference and improve separation.
Impressive Wood Finish - MDF wood with walnut wood finish-vinyl makes it a perfect addition to your living room, office, or study.
Bluetooth 5.0 with Qualcomm aptX - No wires required! Connect to devices using Bluetooth 5.0 technology. Enjoy listening from your phone, laptop, or tablet with wireless connection, works with iOS, Android, Mac, or Windows devices.
Eagle Eye Tweeter - 30W + 36W RMS undistorted power, 4 inch woofer, and 19mm silk dome tweeter, the Edifier R1700BTs active Bluetooth bookshelf speakers make even the hardly-noticeable sounds very clear. And the DSP(Digital Signal Processing) and DRC (Dynamic Range Control) helps to minimize distortion for improved audio even at low volume.
Multiple ways to connect - When connected the sub-out automatically detects the subwoofer and activates the digital crossover. Dual RCA inputs allow you to connect to two devices at a time. Connect to your devices such as phone, PC, laptop, tablet, or gaming console with RCA to RCA audio cable, and 3.5 mm-RCA audio cable, eliminates the need to switch cables.
Built-in Controls - Convenient dials on the side panel of the speaker allows you to adjust the bass, treble, and volume, press the volume dial to toggle between inputs.
Wireless Remote - Adjust volume, mute/unmute, switch inputs, Bluetooth, select sound field extension, and line-in mode with the wireless remote, no need to leave the couch.
Removable Grill - Protects your speaker drivers, easy to remove for cleaning.
TOTAL POWER OUTPUT: R/L(high): 15W+15W, R/L(mid-low): 18W+18W
BLUETOOTH VERSION: Qualcomm 3031/V5.0
INPUT SENSITIVITY: LINE IN 1: 700±50mV, LINE IN 2: 550±50mV, Bluetooth: 400±50mV
INPUT: LINE IN 1, LINE IN 2, Bluetooth
DRIVER UNIT: Φ19mm tweeter unit + 4 inches woofer
SIGNAL-TO-NOISE RATIO: ≥85dBA
FREQUENCY RESPONSE: 52Hz-20KHz
Includes: RCA to RCA cable, RCA to 3.5mm cable, Speaker Connecting cable, Remote Control, User Manual
Brand: Edifier
UPC:

875674004971

Product ID:

EDF04971

Weight: 15.9 lbs

Available Date: 10/25/2020

Model Number: 4004971