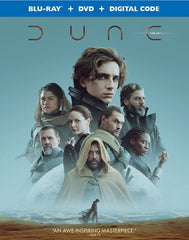 Dune 2021 (Blu-ray+DVD) Dolby, AC-3, Dubbed, Subtitled) Rated: PG13 2022 Release Date: 1/11/2022
Paul Atreides (Timothée Chalamet) was expected to someday steer his noble family's appointed duties mining precious spice from the desert world of Arrakis. He'll have to deal with the treachery of the Harkonnen clan, who abused their prior stewardship-and who will foment war with the native Fremen to get it back.
Denis Villeneuve's expectedly grand-scale take on the Frank Herbert sci-fi saga co-stars Oscar Isaac, Rebecca Ferguson, Stellan Skarsgård, Josh Brolin, Zendaya, Javier Bardem. 155 min. Widescreen; Soundtrack: English.