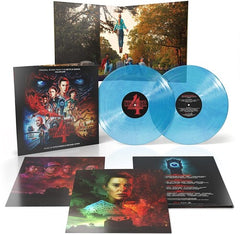 Stranger Things: Stranger Things Season 4 Volume 1 (Colored Vinyl, Blue 2LP) 2023 Release Date: 1/20/2023
Description
Scored by Kyle Dixon & Michael Stein of S U R V I V E!
Stranger Things is the breakout Netflix original series set in 1983 Indiana where a young boy vanishes into thin air. As friends, family and local police search for answers, they are drawn into an extraordinary mystery involving top-secret government experiments, terrifying supernatural forces and one very strange little girl.
A love letter to the '80s supernatural classics that captivated a generation, Stranger Things stars Winona Ryder, David Harbour, Matthew Modine, Finn Wolfhard, Millie Bobby Brown, Gaten Matarazzo, Caleb McLaughlin, Natalia Dyer and Charlie Heaton.
Stranger Things Season Four is split over two volumes!

LPs contain 80 tracks, about three hours of music, on both Volumes 1 & 2!

Stranger Things has won seven Emmy Awards, and has been nominated for 216 various awards, with 77 wins.

Stranger Things 4 is Netflix's most-viewed English-language series of all time.
Features
Double Vinyl LP

Transparent 'Max's Blue World' Vinyl

Gatefold Jacket

Printed Inner Sleeves
STRANGER THINGS SEASON 4 VOLUME 1 - VINYL LP
- Disc 1 -

1

 What's the Internet?

2

 I Wouldn't Remember Me Either

3

 Teens

4

 Journalistic Instinct

5

 100% Convinced

6

 In the Closet (At Rink O Mania)

7

 Does That Make Us Friends?

8

 My Boobs Hurt

9

 Unambiguous True Love

10

 Stuck in 1983

- Disc 2 -

1

 Hawkins National Lab

2

 Hellfire Club

3

 Buried Memories

4

 Fancy Bomb

5

 We Are Not Heroes

6

 Nine Feet Tall

7

 Hail Lord Vecna

8

 Powerful Psychic Connection

9

 Ruth, Nevada

10

 Hellfire Isn't a Cult

11

 I Know What I Saw

12

 Curfew

- Disc 3 -

1

 You're Regressing Eleven

2

 Letter to Willy

3

 Palm Tree Delight

4

 Musso

5

 Brenner's Little Pet

6

 Mr. Fibbly

7

 It's Just a Clock, Right?

8

 Welcome to Kamchatka

9

 A Nightmare Far Worse

- Disc 4 -

1

 Caught a Body at the Munsen Trailer

2

 A War Is Coming to Hawkins

3

 The Elephant

4

 Hurtling Towards a Gruesome Death

5

 Barefoot in the Snow

6

 Kills You in Your Dreams

7

 The Shire Is Burning

8

 Blood Balloons

9

 Burning Baby

10

 Mugshot

11

 There Are Some Things Worse Than Ghosts

12

 A Memory Within a Memory