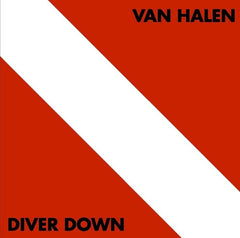 Van Halen : Diver Down 1982 (180 Gram Vinyl Remastered LP) 2015 Release Date: 7/10/2015
Limited 180gm vinyl LP repressing. Digitally remastered edition of this 1982 album by the hard rock quartet. Diver Down was the band's fifth album, which ended up going four-times platinum. With vocals by the wildly entertaining David Lee Roth, the guitar masterwork of Eddie Van Halen and the irreplaceable rhythm section of drummer Alex Van Halen and bassist/backing vocalist Michael Anthony, 
Van Halen were one of the late '70s and early '80s greatest Rock 'n' Roll bands. Mastering engineer Chris Bellman, who remastered the original albums at Bernie Grundman Mastering Studios, was enlisted for this new version. In order to produce the original sound the band intended, Bellman cut straight from the quarter-inch tapes.
- Disc 1 -

1

 Where Have All the Good Times Gone!

2

 Hang 'Em High

3

 Cathedral

4

 Secrets

5

 Intruder

6

 (Oh) Pretty Woman

- Disc 2 -

1

 Dancing in the Street

2

 Little Guitars (Intro)

3

 Little Guitars

4

 Big Bad Bill (Is Sweet William Now)

5

 The Full Bug

6

 Happy Trails