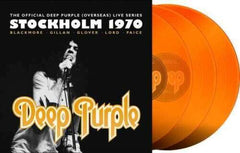 Deep Purple : Stockholm 1970 (Orange 3LP) 2023 Release Date: 2/17/2023

1970 Live Show Recorded in Sweden on Colored Vinyl 3LP! 
...Two hours. Seven songs. It's Deep Purple, captured live at the point where they were stretching infant hard rock to its breaking point with l-o-n-g guitar and keyboard solos (and on 'Paint It Black,' an Ian Paice drum solo as well). The sheer length of some of these workouts is astonishing: 'Wring That Neck' and 'Mandrake Root' both last about a half-hour each, while 'Child in Time' makes it to nearly 20 minutes.
Even the encore of their huge British single 'Black Night' takes seven minutes....the sound quality is good, and the vibe very representative of the time Deep Purple plunged all-out into heavy hard rock. -Richie Unterberger, AllMusic.com
FEATURES:
The Official Deep Purple (Overseas) Live Series

3LP

Orange Vinyl
DEEP PURPLE / STOCKHOLM 1970
- Disc 1 -

1

 Speed King

2

 Into the Fire

- Disc 2 -

1

 Child in Time

- Disc 3 -

1

 Wring That Neck

- Disc 4 -

1

 Mandrake Root

- Disc 5 -

1

 Black Night

2

 Wring That Neck (Live Paris 1970)

- Disc 6 -

1

 Paint It Black

2

 Mandrake Root (Live Paris 1970)