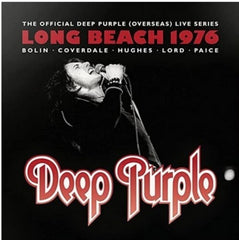 Deep Purple : Long Beach 1976 (White 3LP) 2023 Release Date: 2/17/2023
Description
1976 Live Show Recorded in California on Colored Vinyl 3LP!
Deep Purple are one of the all-time great and definitely quintessential British rock bands with album sales exceeding 100 million albums since they formed in 1968.
After Ritchie Blackmore left the band in 1975, Deep Purple found replacement in the US-guitarist Tommy Bolin. As a first reaction, this caused some frowns among some critics and fans, soon to be replaced with great astonishment for this highly talented guitarist. And Bolin indeed did revitalize the band, for a short period before drug abuse caused the band's split and his tragic death soon after.
The complete MKIV lineup features, of course, John Lord and Ian Paice, vocalist David Coverdale, guitarist Tommy Bolin and bassist Glenn Hughes.
Long Beach 1976 is part of earMUSIC's Deep Purple / DPO reissue series that has seen the release of rare live material from the band, including Copenhagen 1972, Stockholm 1970, Paris 1975, Graz 1975 and Long Beach 1971.
Long Beach 1976 features one of the very rare shows where the MK IV lineup (Bolin - Coverdale - Hughes - Lord - Paice) performance was recorded live.
The show was originally recorded at Long Beach Arena, California on February 27th for radio broadcast on The King Biscuit Flower Hour, an American syndicated radio show that featured concert performances by various rock artists, such as The Rolling Stones and Bruce Springsteen, among many others.
Three additional live tracks from another concert of the same tour have been added to the tracklist (Springfield, January 1976).
In this formation, Deep Purple recorded only one album, Come Taste the Band, featuring Tommy Bolin's great songwriting talent on most songs, and it was this album that was promoted through the tour. Although this twelfth Deep Purple album never gained the same commercial success as their earlier releases like Machine Head or Made in Japan, Come Taste the Band features a musically matured Deep Purple and some of the best material Deep Purple ever wrote and recorded, and it is to this day considered a "must have" album.
After internal difficulties (mainly due to Bolin's drug addiction) Deep Purple decided to split up in July of the same year, seeing the members spread out to do several solo projects. Tragically, Tommy Bolin died only a couple months later from a heroin overdose.
Long Beach 1976 is a real jewel in a fan's collection, featuring a very quirky "Smoke on the Water" that morphs into a truly great rendition of "Georgia on My Mind" (Carmichael/Gorrell), rare tracks from their album Come Taste the Band and even a song from Bolin's solo album Teaser.
FEATURES:
The Official Deep Purple (Overseas) Live Series

3LP

White Vinyl

Bonus Live Tracks
DEEP PURPLE / LONG BEACH 1976
- Disc 1 -

1

 Intro

2

 Burn

3

 Lady Luck

- Disc 2 -

1

 Gettin' Tighter

2

 Smoke on the Water / Georgia on My Mind

- Disc 3 -

1

 Love Child

2

 Lazy

- Disc 4 -

1

 Homeward Strut

2

 This Time Around

3

 Owed to G

4

 Guitar Solo Tommy Bolin

- Disc 5 -

1

 Stormbringer

2

 Highway Star

- Disc 6 -

1

 Smoke on the Water / Georgia on My Mind

2

 Going Down

3

 Highway Star