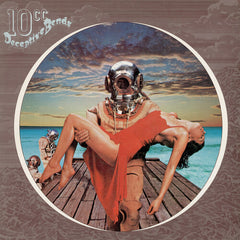 10cc: Deceptive Bends 1977 -180gm Vinyl Import United Kingdom-LP Release 2023 Date: 2/24/2023
Formed in 1972, 10cc were at once commercial, at once strange. Described as the 'missing link between the Beatles and Blur', it was rare to have four talented writers, singers and multi-instrumentalists all under one roof; but in Eric Stewart, Graham Gouldman, Lol Creme and Kevin Godley, 10cc had just that.
Following the departure of Goadley and Creme Eric Stewart and Graham Gouldman continued as 10cc and made Deceptive Bends (1977), which included two of the group's most enduring hits, The Things We Do For Love and Good Morning Judge. It closes with the career best-equalling Feel The Benefit. This re-issue faithfully replicates the original 1977 Mercury Records UK release with legendary Hipgnosis- designed gatefold sleeve and printed inner and is pressed onto high quality 180gm vinyl.  
1

 Good Morning Judge

2

 The Things We Do for Love

3

 Marriage Bureau Rendezvous

4

 People in Love

5

 Modern Man Blues

6

 Honeymoon with B Troop

7

 I Bought a Flat Guitar Tutor

8

 You've Got a Cold

9

 Feel the Benefit
LABEL: Proper Records Uk

UPC: 805520240161

GENRE: Rock

RELEASE DATE: 2/24/2023

PRODUCT ID: PPEK2024016.1

THIS IS AN IMPORT PRODUCT




WEIGHT: .8 lb