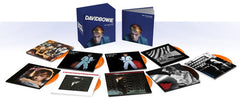 David Bowie: Who Can I Be Now? 1974 To 1976 (12 CD Boxed Set) Remastered 2016 Release Date: 9/23/2016
2016 twelve CD box set. David Bowie - Who Can I Be Now? (1974 to 1976) is named after a track recorded in 1974 but not officially released until the 1990s. The box includes includes Diamond Dogs, David Live (in original and 2005 mixes), Young Americans, and Station To Station (in original and 2010 mixes) as well as The Gouster, Live Nassau Coliseum '76, and a new compilation entitled Re: Call 2, which is a collection of single versions and non-album b-sides.
Exclusive to the boxed set is The Gouster. Previously unreleased as a complete album, it was recorded at Sigma Sound, Philadelphia in 1974 and produced by Tony Visconti. The album was mixed and mastered before David decamped to New York to work with John Lennon and Harry Maslin on what became the Young Americans album. The Gouster contains three previously unreleased mixes: "Right," "Can You Hear Me," and "Somebody Up There Likes Me. "The boxed sets' accompanying book features rarely seen and previously unpublished photos by photographers including Eric Stephen Jacobs, Tom Kelley, Geoff MacCormack, Terry O'Neill, Steve Schapiro, and many others as well as historical press reviews and technical notes about the albums from producers Tony Visconti and Harry Maslin. 
LABEL: Parlophone (Wea)

NUMBER OF DISCS: 12

UPC: 190295989842

GENRE: Rock

RELEASE DATE: 9/23/2016

PRODUCT ID: PRL556298.2

WEIGHT: 1.78 lbs