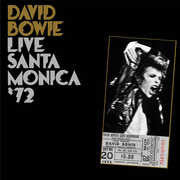 David Bowie: Live In Santa Monica Civic Auditorium '72 Limited Double 180 Gram LP Pressing 06-17-16 Release Date Includes Free Shipping
Vinyl-Limited double 180gm vinyl LP pressing. Live Santa Monica '72 is a live album that was housed in the David Bowie Five Years 1969-1973 box set. Santa Monica '72 was recorded at Santa Monica Civic Auditorium on 20 October 1972 during the Ziggy Stardust tour. 
Taken from an FM radio broadcast, it was available only as a bootleg for more than 20 years. This live album features a quite different setlist to the one found on Ziggy Stardust - The Motion Picture, which was recorded nine months afterwards. The Santa Monica recording is generally considered a superior representation of the Ziggy Stardust concerts in terms of both sound quality and standard of playing.
- Disc 1 -

1

 Introduction (Live)

2

 Hang on to Yourself (Live)

3

 Ziggy Stardust (Live)

4

 Changes (Live)

5

 The Supermen (Live)

6

 Life on Mars? (Live)

7

 Five Years (Live)

8

 Andy Warhol (Live)

- Disc 2 -

1

 Space Oddity (Live)

2

 My Death (Live)

3

 The Width of a Circle (Live)

4

 Moonage Daydream (Live)

5

 Waiting for the Man (Live)

6

 Suffragette City (Live)

- Disc 3 -

1

 Queen Bitch (Live)

2

 John, I'm Only Dancing (Live)

- Disc 4 -

1

 The Jean Genie (Live)

2

 Rock 'N' Roll Suicide (Live)
(2PC)

Label: Rhino / Parlophone

Release Date: 6/17/2016

Genre: Rock

UPC: 825646113743

Product ID: RPLH83221.1

Weight: 1.21 lbs