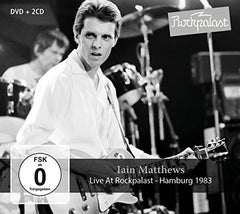 Iain Matthews: Live At Rockpalast (DVD+2CD) 1983 Release Date: 11/4/2016
Iain Matthews, English musician and songwriter, was a singer with Fairport Convention, before forming his own band Matthews Southern Comfort, which had a UK number one in 1970 with a cover of Joni Mitchell's "Woodstock" (it spent three weeks at number one and 23 weeks in the Top 100).
Born in Scunthorpe, Lincolnshire, England, Matthews was known in the 1960s first as Ian McDonald, then as the 1960s progressed, as Ian Matthews. In 1989, he reverted to the original spelling of his first name. Influenced by both rock and roll and folk music, he has performed mainly as a solo act, although he was a member of Fairport Convention during the early period when they were heavily influenced by American West Coast folk rock. He later had a solo career and fronted the bands Plainsong, Hi-Fi (feat. David Surkamp, PAVLOV'S DOG), No Grey Faith, More Than A Song and Matthews Southern Comfort. The present ROCKPALAST DVD/3CD shows IAN MATTHEWS and his band at a concert in the Hamburger Markthalle, Germany from 12th December 1983 feat. David Wintor (IF, STEALERS WHEEL) on bass, Bruce Hazen (Hi-Fi, Life 9) on guitar and former ARGENT and KINKS drummer Bob Henrit. For the first time in the famous ROCKPALAST series this edition features a bonus CD covering all the studio versions of the songs Ian is playing live at the show! So this release is a kind of new landmark in the history of the ROCKPALAST editions on DVD and CD!
- Disc 1 -

1

 Nine O'Clock (Live)

2

 For the Lonely Hunter (Live)

3

 Blue Shirt (Live)

4

 See Me (Live)

5

 Driftwood from Disaster (Live)

6

 She May Call You Up Tonight (Live)

7

 Shorting Out (Live)

8

 Sights in Manhattan (Live)

9

 I Survived the Seventies (Live)

10

 Hearts on the Line (Live)

11

 I Can't Fade Away (Live)

12

 Civilisation (Live)

13

 Lies (Live)

14

 Out of My Range (Live)

15

 Over Under Sideways Down (Live)

16

 Mr. Soul (Live)

17

 For the Lonely Hunter (Reprise) (Live)

- Disc 2 -

1

 Nine O'Clock (Studio Version)

2

 For the Lonely Hunter (Studio Version)

3

 Blue Shirt (Studio Version)

4

 See Me (Studio Verison)

5

 Driftwood from Disaster (Studio Version)

6

 She May Call You Up Tonight (Studio Version)

7

 Shorting Out (Studio Version)

8

 Sights in Manhattan (Studio Version)

9

 I Survived the Seventies (Studio Version)

10

 Hearts on the Line (Studio Version)

11

 I Can't Fade Away (Studio Version)

12

 Civilisation 8Studio Version)

13

 Lies (Studio Version)

14

 Out of My Range (Studio Version)

15

 Over Under Sideways Down (Studio Version)

16

 Mr. Soul (Studio Version)

17

 For the Lonely Hunter (Reprise) (Studio Version)

- Disc 3 -

1

 Nine O'Clock

2

 For the Lonely Hunter

3

 Blue Shirt

4

 See Me

5

 Driftwood from Disaster

6

 She May Call You Up Tonight

7

 Shorting Out

8

 Sights in Manhattan

9

 I Survived the Seventies

10

 Hearts on the Line

11

 I Can't Fade Away

12

 Civilisation

13

 Lies

14

 Out of My Range

15

 Over Under Sideways Down

16

 Mr. Soul

17

 For the Lonely Hunter (Reprise)
LABEL: Made in Germany Musi

NUMBER OF DISCS: 2

UPC: 885513906724

GENRE: Rock

RELEASE DATE: 11/4/2016

PRODUCT ID: MDIG90672.2

WEIGHT: .29 lb