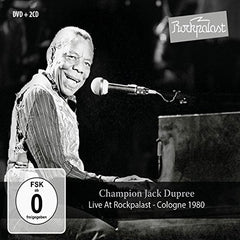 Champion Jack Dupree: Live At Rockpalast Cologne 1980 (DVD+2CD) 2017 Release Date: 3/10/2017
Champion Jack Dupree - Live At Rockpalast: Cologne 1980 (2CD+DVD) - Because Champion Jack Dupree lived and toured in Germany for an extended period of time, many older blues fans will remember his live shows, which were a mixture of barrelhouse blues and boogie, stories and mostly saucy jokes (Shakesbeer says...). 
On the other side, there also were his very emotional, often autobiographical slow blues. The concert DVD presents all facets of this great barrelhouse piano player and singer; it is fun to watch, offers musical pleasures and makes you realize that there are hardly any true characters left in the blues who would ask for another beer even in a TV studio, before the show goes on. He deserved to have a little fun, because William Thomas Dupree, his given name, had lots of hard times behind him. Born on July 4, 1910 in New Orleans (Louisiana), Dupree, like a nine years older Louis Armstrong before him, grew up in the Crescent City's Colored Waif's Home after his parents had died in a fire. There he learned the basics of piano playing, which Dupree honed under tutelage of local pianists such as Drive'em Down (Willie Hall) and Don Bowers. Besides club appearances, he started boxing professionally (hence his sobriquet Champion). From the 1930's on, he traveled around the US a lot, playing in Chicago and for several years in Indianapolis. In 1940, he made his first records for the Okeh label, including Chain Gang Blues and Angola Blues about the infamous prison farm in Louisiana. His Junker Blues, recorded one year later, is an extremely explicit song about drug abuse, which 8 years later served as the musical blueprint for Fats Domino's first hit, The Fat Man. The rhythm of his Barrelhouse piano playing had already been shaped by the Caribbean influences of his hometown, and there is a clear stylistic line from his early recordings by way of other New Orleans pianists such as Archibald and Tuts Washington to Professor Longhair and Fats Domino.
- Disc 1 -

1

 Intro

2

 I Don't Know

3

 One Scotch, One Bourbon, One Beer

4

 Schooldays

5

 Ain't That a Shame / Swanee River / Blueberry Hill

6

 Drinkin' Wine Spo-Dee-O-Dee

7

 Marriage (Talk)

8

 Bring Me Flowers (While I'm Living)

- Disc 2 -

1

 Disc: 2 Jack's Pinetop Boogie

2

 You Can Make It If You Try

3

 Baby, Don't Go

4

 Bad Luck

5

 Rockin' the Boogie

6

 Salt Pork, West Virginia

7

 Down By the Riverside

8

 The Saints

9

 Mean Old Frisco

10

 It's Now or Never

- Disc 3 -

1

 Disc: 3 Intro

2

 I Don't Know

3

 One Scotch, One Bourbon, One Beer

4

 Schooldays

5

 Ain't That a Shame / Swanee River / Blueberry Hill

6

 Drinkin' Wine Spo-Dee-O-Dee

7

 Marriage (Talk)

8

 Bring Me Flowers (While I'm Living)

9

 Jack's Pinetop Boogie

10

 You Can Make It If You Try

11

 Baby, Don't Go

12

 Bad Luck

13

 Rockin' the Boogie

14

 Salt Pork, West Virginia

15

 Down By the Riverside

16

 The Saints

17

 Mean Old Frisco

18

 It's Now or Never
LABEL: Made in Germany Musi

NUMBER OF DISCS: 3

UPC: 885513907424

GENRE: Blues

RELEASE DATE: 3/10/2017

PRODUCT ID: MDIG9072.2

WEIGHT: .35 lb