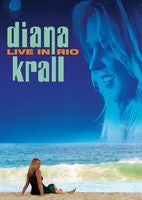 Diana Krall: Live in Rio-Rio de Janeiro 2009 DVD 2009 18 Live Performances 16:9 DTS 5.1
Diana Krall has had a long time fascination with bossa nova, a type of music, which perfectly suits her sophisticated yet sensual style. This culminated in her new studio album "Quiet Nights" (released by Verve in spring 2009) and in this stunning concert filmed in the home of the bossa nova, Rio de Janeiro, in November 2008. Accompanied by her band and an orchestra,  Diana Krall delivers a superb set of standards in true bossa nova style but clearly bearing her unique stamp. This DVD captures Diana Krall at her scintillating best.  
Diana Krall: Live in Rio comes to the DVD format in a 1080i/AVC encode framed in a 1:78:1 video window. Black levels are stable and deep, and shadow detail is very good. Contrast is spot on, as there is no sign of bleaching or hot levels. Colors are vibrant, and nicely rendered. 801213333394 
DVD

TRACK LISTING: 
1) I Love Being Here With You 
2) Let's Fall In Love 
3) Where Or When 
4) Too Marvellous For Words 
5) I've Grown Accustomed To His Face 
6) Walk On By 
7) Frim Fram Sauce 
8) Cheek To Cheek 
9) You're My Thrill 
10) Let's Face The Music And Dance 
11) Every Time We Say Goodbye 
12) So Nice 
13) Quiet Nights 
14) Este Seu Olhar 
15) The Boy From Ipanema 
16) I Don't Know Enough About You 
17) S'Wonderful 
18) Exactly Like You 
BONUS FEATURES: "Quiet Conversations" - interviews with Diana and her band in Rio de Janeiro. "The Boy From Ipanema" - promotional film for the track from her new album filmed in Rio. 
STARRING: Diana Krall

UPC: 801213027392

DIRECTOR: David Barnard

RELEASE DATE: 5/26/2009

PRODUCT ID: EGVS30273DVD

CLOSED CAPTION: No

ORIGINAL YEAR: 2008

RUN TIME: 135 minutes

DISTRIBUTOR/STUDIO: Eagle Rock Ent

WEIGHT: .27 lb
Run Time: 149 minutes 
UPC: 801213333394 
Live Concerts: 062