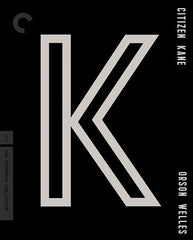 Citizen Kane (Criterion Collection)( 4K Ultra HD (Boxed Set, Subtitled) 1941 Release Date: 11/23/2021
Director/co-writer/producer/star Orson Welles' landmark debut film, a sweeping chronicle of the rise and fall of an ambitious and ruthless newspaper tycoon named Charles Foster Kane, and the mystery surrounding his dying word, is recognized as one of the greatest and most innovative movies of all time.
Welles' "Mercury Players" cast includes Dorothy Comingore, Joseph Cotten, Everett Sloane, Ages Moorehead, Ray Collins, and Ruth Warrick. 119 min. Standard; Soundtrack: English Uncompressed PCM mono; Subtitles: English (SDH); audio commentary; documentaries; interviews; featurette; video essay; theatrical trailer; bonus short "The Hearts of Age" (1934); radio plays; essay; more. Four-disc set.