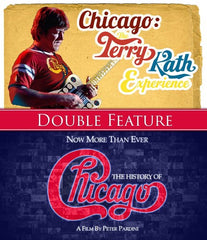 Chicago: The Terry Kath Experience / Now More Than Ever: The History of Chicago (Blu-ray) 2021 Release Date: 11/19/2021
 NOW MORE THAN EVER: THE HISTORY OF CHICAGO: The history of legendary rock band Chicago is chronicled from their inception in 1967 all the way to the present.
CHICAGO: THE TERRY KATH EXPERIENCE: A journey into the mind of one of the most underrated guitarists in rock history. Follow Terry's daughter as she discovers the truth around the life and death of a father she never knew.