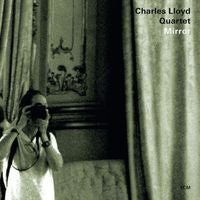 Charles Lloyd: Mirror CD 2010
Many critics have opined that Lloyd's "New Quartet", with Jason Moran, Reuben Rogers and Eric Harland may be the best of all his groups. The quartet's previous release in this line-up, the live-recorded Rabo de Nube, met with across-the-board approval and was voted #1 album of the year in both the Critics and Readers Polls of JazzTimes. Mirror is the first studio album by the Lloyd-Moran-Rogers-Harland unit and it features beautiful, transformed versions of favorites including both Lloyd originals and tunes Charles has made his own over the years. 
CD only-- Please note this is a promo trailer video-" Mirror" 
 There is a pair of Thelonious Monk tunes, "Ruby, My Dear" and "Monk's Mood", as well as hymns and traditionals including "Go Down Moses", "Lift Every Voice And Sing", and "The Water Is Wide". Lloyd covers Brian Wilson's' "Caroline, No" (the saxophonist guested on several Beach Boys albums in the 70s, including the classic "Surf's Up"), and plays an achingly lovely version of the standard "I Fall In Love Too Easily". Lloyd originals include "Desolation Sound", "Mirror", "Tagi" (which includes a Bhagavad Gita inspired spoken-word meditation by Lloyd) and "Being and Becoming". 
The band plays superbly. Interaction between Jason Moran and the elastic rhythm section of Harland and Rogers is agile and alert in every moment. While each of these three players is completely in tune with Lloyd's way of working, none of them had yet been born when Charles had his idiomatic breakthrough with "Forest Flower" in 1967. Moran recalls that his father encouraged him to listen to Forest Flower when he was just starting to check out jazz, and the album was part of the soundtrack of his childhood.
Details
| | |
| --- | --- |
| | Charles Lloyd |
| | Mirror |
| | Jazz |
| | 14 September 2010 |
| | Unknown |
| | ~ Discs:1 ~ Country:USA |
| | USA |
| | Umgd/Ecm ( UECM ) |
| | Compact Disc |
| |   |
| | 602527404998 |
| | D: CD |
| | This Item Can Only Be Shipped To United States Addresses. No International Export. |
Track Listing
| | | | |
| --- | --- | --- | --- |
|   |   | Track # | Title |
|   |   | 1 | I Fall in Love Too Easily (for Lily) |
|   |   | 2 | Go Down Moses |
|   |   | 3 | Desolation Sound |
|   |   | 4 | La Llorona |
|   |   | 5 | Caroline, No |
|   |   | 6 | Monk's Mood |
|   |   | 7 | Mirror |
|   |   | 8 | Ruby, My Dear |
|   |   | 9 | The Water Is Wide |
|   |   | 10 | Lift Every Voice and Sing |
|   |   | 11 | Being and Becoming, Road to Dakshineswar with Sangeeta |
|   |   | 12 | Tagi |
When Charles Lloyd showcased his quartet in a live setting on 2008's Rabo de Nube, it was one of the more exciting, free-flowing dates of that year. It was physical, full of intense engagement and fiery energy. On that date, he performed a number of tunes he'd recorded before, along with new compositions. Mirror, recorded with the same band -- drummer Eric Harland, pianist Jason Moran, and bassist Reuben Rogers -- in a Santa Barbara studio, is, as the title suggests, a mirror image of the previous outing. Here too, the saxophonist revisits some older material with, thanks in large part to his sidemen, new ears. The material is mostly gently swinging ballads and outr investigations showcasing an even more spiritual side to Lloyd's playing and arranging. But it also displays the great intuitive nuances this band is capable of. While the set opens with an elegant and gently swinging reading of the standard "I Fall in Love Too Easily," it's the follow-up, the spiritual "Go Down Moses," that showcases the group's persona with its modal, questioning concerns, while keeping the tune firmly in the church. The title track appeared on 1989's Canto, and is here performed with the kind of deep commitment and sense of interdependent energy only time and wisdom can impart. Another tune from that album, "Desolation Sound," while still a ballad, features a lot more engagement from the players here: Moran's solo looks in and through the changes to find a way outside and gets there. Harland's shimmering breaks add more crackle than on the original. Likewise, "The Water Is Wide" and "Lift Every Voice and Sing" are performed, in their restrained way, more energetically than they were on their respective albums. One of Mirror's great surprises is a tender reading of the Beach Boys' "Caroline, No." While the melody is inescapable, Lloyd very quickly transforms it into a jazz ballad of haunting, romantic beauty. On a pair of Monk tunes here -- "Ruby, My Dear" and "Monk's Mood" -- Moran's own musical personality is given free rein. He expresses it with his deft senses of rhythmic and harmonic intuition, underscoring unexpected phrases and elaborating on others. Ultimately, Mirror is another Lloyd triumph. It may not shake the rafters with its kinetics, but it does dazzle with the utterly symbiotic interplay between leader and sidemen. ~ Thom Jurek, Rovi