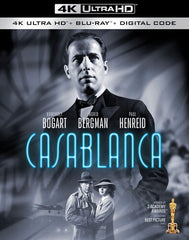 Casablanca 1942 (4K Ultra HD+Blu-ray+Digital Copy) 4K Ultra HD Rated: PG 2022 Release Date: 11/8/2022
Casablanca: easy to enter, but much harder to leave, especially if you're wanted by the Nazis. Such a man is Resistance leader Victor Laszlo (Paul Henreid), whose only hope isRick Blaine (Humphrey Bogart), a cynical American who sticks his neck out for no one; especially Victor's wife Ilsa (Ingrid Bergman), the ex-lover who broke his heart. Ilsa offers herself in exchange for Laszlo's transport out of the country and bitter Rick must decide what counts more; personal happiness or countless lives hanging in the balance.
Winner of three Academy Awards including Best Picture, Casablanca marks nearly 70 years as a beloved favorite with so many bonuses that no matter how often you've seen it, this beautiful Ultimate Collector's Edition looks like yet another beginning of a beautiful friendship with an unforgettable classic.