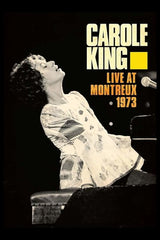 Carole King: Live At Montreux 1973 [Import] Region 0 DVD 2019 Release Date 6/14/19
Carole King's very first performance outside of the U.S. took place in 1973, at The Montreux Pavilion as part of the world-famous Montreux Jazz Festival. 
Released for the very first time, this concert film was captured two years after she altered the course of pop history with 'Tapestry', and one month after she issued the album 'Fantasy'. Carole performs with heartfelt energy, playing classic hits such as "It's Too Late", "I Feel The Earth Move", "You've Got A Friend" plus standout tracks from Fantasy - "Believe in Humanity" and "Corazón"- as she is backed by an ensemble of top musicians.
UPC: 5034504135475

GENRE: Rock

RELEASE DATE: 6/14/2019

PRODUCT ID: EAGV4135475DVD

LAST RETURN DATE: 6/14/2019

THIS PRODUCT IS NON-RETURNABLE

THIS IS AN IMPORT PRODUCT

DISTRIBUTOR/STUDIO: Eaglevision Europe

VIDEO FORMAT: NTSC

REGION: 0

WEIGHT: .42 lb