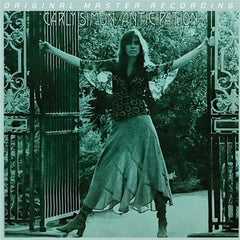 Carly Simon: Anticipation 1970 SACD Mobile Fidelity HiRES 96/24 2016 Release Date: 4/15/2016
Released during a time before the 1970s singer-songwriter movement reached full bloom, Anticipation is remarkable not only for the consistently high quality of songwriting but for Simon's gutsy stance. The arresting album cover-depicting the artist holding the gates at Queen Mary's Garden in Regent's Park and seemingly defying anyone to take her on-serves as a metaphor for the content within.
Beginning a now-famous string of high-profile relationships with fellow celebrities, Simon was heavily involved with Cat Stevens leading up to the recording of Anticipation, and drew from her experiences to craft tunes that continue to resonate because of their honesty, realism, and strength.
1. Anticipation

2. Legend In Your Own Time

3. Our First Day Together

4. The Girl You Think You See

5. Summer's Coming Around Again

6. Share the End

7. The Garden

8. Three Days

9. Julie Through the Glass

10. I've Got to Have You