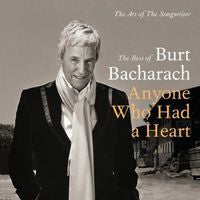 Burt Bacharach: Anyone Who Had A Heart-Art Of The Songwriter 2 CD Deluxe Edition 2013
2013 two CD collection released to coincide with the songwrting icon's 85th birthday. This set features various artists performing his memorable writing collaborations! Dating from his first pop hit on the charts and especially his work with longtime writing partner and lyricist Hal David, who helped the duo create an amazing streak of classics, to those songs of recent years when Bacharach ventured out on his own to write with Carole Bayer Sager and Elvis Costello among others. Rovi Rating:

The collection celebrates the work of Bacharach and how the combined efforts of talented songwriters, majestic melodies, unforgettable lyrics and great vocalists can yield timeless pop classics and be interpreted in unique ways.
Track Listing
| | | | |
| --- | --- | --- | --- |
| |   | Track # | Title |
| 1. | | 1 | I Say a Little Prayer |
| 1. | | 2 | Raindrops Keep Fallin' on My Head |
| 1. | | 3 | I Just Don't Know What to Do with Myself |
| 1. | | 4 | Waiting for Charlie to Come Home |
| 1. | | 5 | The Story of My Life |
| 1. | | 6 | The Look of Love |
| 1. | | 7 | A House Is Not a Home |
| 1. | | 8 | Arthur's Theme (Best That You Can Do) |
| 1. | | 9 | Baby It's You |
| 1. | | 10 | Tower of Strength |
| 1. | | 11 | Magic Moments |
| 1. | | 12 | Take a Broken Heart |
| 1. | | 13 | Wishin' and Hopin' |
| 1. | | 14 | Don't Make Me Over |
| 1. | | 15 | Any Day Now |
| 1. | | 16 | Twenty Four Hour From Tulsa |
| 1. | | 17 | I'Ll Never Fall in Love Again |
| 1. | | 18 | Love's (Still) the Answer |
| 1. | | 19 | Anyone Who Had a Heart |
| 1. | | 20 | What the World Needs Now |
| 2. | | 1 | What's New Pussycat? |
| 2. | | 2 | Alfie |
| 2. | | 3 | Make It Easy on Yourself |
| 2. | | 4 | This Guy's in Love with You |
| 2. | | 5 | Message to Michael |
| 2. | | 6 | One Less Bell to Answer |
| 2. | | 7 | Walk on by |
| 2. | | 8 | Trains and Boats and Planes |
| 2. | | 9 | Let the Music Play |
| 2. | | 10 | You'Ll Never Get to Heaven (If You Break My Heart) |
| 2. | | 11 | Wives and Lovers |
| 2. | | 12 | Love Is My Decision |
| 2. | | 13 | Keep Me in Mind |
| 2. | | 14 | On My Own |
| 2. | | 15 | Nikki |
| 2. | | 16 | Overnight Success |
| 2. | | 17 | My Little Red Book |
| 2. | | 18 | Toledo |
| 2. | | 19 | That's What Friends Are for |
| 2. | | 20 | Heartlight |
Product Reviews
Usually, a best-of compilation features songs performed by its subject, but as one of America's most prolific and successful songwriters, Burt Bacharach is able to have an entire two-disc set come out featuring his songs and only appear on it once. On The Best of Burt Bacharach: Anyone Who Had a Heart, listeners can dive into the composer's sizable songbook with pop gems like Tom Jones' "What's New Pussycat?," Aretha Franklin's "I Say a Little Prayer," and Isaac Hayes' "I'll Never Fall in Love Again," showing the versatility and talent that have made Bacharach a pop treasure. ~ Gregory Heaney, Rovi
Details
| | |
| --- | --- |
| | Burt Bacharach |
| | Anyone Who Had a Heart-Art of the Songwriter |
| | Easy Listening |
| | 28 May 2013 |
| | Unknown |
| | 2 CD ~ Discs:2 |
| | Umgd/Hip-O Records ( HIPD ) |
| | Compact Disc |
| | |
| | 600753430507 |
| | D: CD |