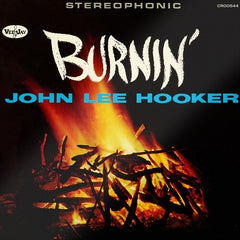 John Lee Hooker: Burnin' 60th Anniversary (180 Gram Vinyl Remastered Reissue LP) 2023 Release Date: 2/24/2023 CD Also Avail
JOHN LEE HOOKER - BURNIN (60th ANNIVERSARY) - Celebrating the 60th anniversary of John Lee Hooker's electrifying blues classic,  Burnin',  this 180-gram reissue offers newly remastered audio from the original analog tapes. Featuring a stereo mix of the album, as it was first released in 1962, the set includes the King of the Boogie's signature hit, "Boom Boom, " and features members of the legendary Funk Brothers (Motown Records' celebrated house band). 
A tip-on jacket, which replicates Vee-Jay Records' original designs, rounds out the package.  
- Disc 1 -

1

 Boom Boom [Stereo]

2

 Process [Stereo]

3

 Lost a Good Girl [Stereo]

4

 A New Leaf [Stereo]

5

 Blues Before Sunrise [Stereo]

6

 Let's Make It [Stereo]

- Disc 2 -

1

 I Got a Letter [Stereo]

2

 Thelma [Stereo]

3

 Drug Store Woman [Stereo]

4

 Keep Your Hands to Yourself [Stereo]

5

 What Do You Say [Stereo]
LABEL: Craft Recordings

UPC: 888072424609 LP

GENRE: Blues

RELEASE DATE: 2/24/2023

PRODUCT ID: CRF544.1

WEIGHT: .7 lb



LABEL: Craft Recordings

UPC: 888072424593 CD

GENRE: Blues

RELEASE DATE: 2/24/2023

PRODUCT ID: CRF545.2

WEIGHT: .2 lb