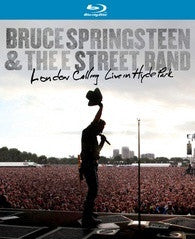 Bruce Springsteen & E Street Band London Calling -Live in Hyde Park 2009 (Blu-ray) 2010 DTS-HD Master Audio
Captured in London at the Hard Rock Calling Festival on June 28, 2009, this film documents 26 tracks of live Springsteen that begin in daylight and progress through a gorgeous sunset into night. It conveys both the experience of being on-stage and the vast crowd experience of the festival environment. 886977240393
 Viewers are able to see Springsteen spontaneously directing the E Street Band and shaping the show as it evolves. Rovi Rating:

London Calling: Live in Hyde Park is an ambitious concert documentary by any stretch of the imagination. First, there's the incredible length of the piece: Bruce and band come on stage and then rip through one song after another for an astonishing two hours and fifty-plus minutes. 
Bruce's set list includes:
London Calling 
Badlands
Night
She's the One
Outlaw Pete
Out in the Street
Working on a Dream
Seeds
Johnny 99
Youngstown
Good Lovin'
Bobby Jean
Trapped
No Surrender
Waiting' on a Sunny Day
Promised Land
Racing in the Street
Radio Nowhere
Lonesome Day
The Rising
Born to Run
Rosalita
Hard Times
Jungleland
American Land
Glory Days
Dancing in the Dark
Raise Your Hand
London Calling: Live in Hyde Park bursts onto Blu-ray with one of the best looking live concert images I've seen recently. Encoded via AVC and delivered with a 1080i "live" image in a 1.78:1 aspect ratio, the concert looks sharp and incredibly well detailed from the first notes in the bright sunshine to Bruce's final "We love you" delivered in the black of night some three hours later. Bruce's black shirt is always clearly delineated from the dark backdrop, which speaks well of black levels and contrast, and colors (mostly in the audience and the sideboards off of the stage) look lifelike and are extremely well saturated.  
STARRING: Bruce Springsteen

UPC: 886977240393

DIRECTOR: Chris Hilson

RELEASE DATE: 6/21/2010

PRODUCT ID: SNY772403BR

CLOSED CAPTION: No

ORIGINAL YEAR: 2009

RUN TIME: 180 minutes

DISTRIBUTOR/STUDIO: Sony

WEIGHT: .2 lb