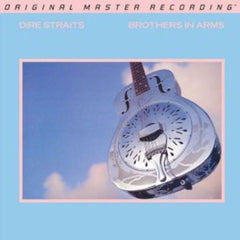 Dire Straits: Brothers in Arms 1996 (Hybrid SACD) Mobile Fidelity Limited Edition HiRES 96/24 SACD Release Date: 10/8/2013
Mastered from the original master tapes, and possessing a richness befitting the album's stellar reputation, Mobile Fidelity's numbered limited-edition Hybrid SACD of Brothers in Arms breathes with transparent highs, atmospheric heft, and lifelike tonalities. The sense of realism this edition delivers will leave slack-jawed even the most hard-to-please audiophiles.
As the recipient of the Grammy for Best-Engineered Recording, the album has always been a go-to sonic standard, but never has it sounded so reach-out-and-touch-it realistic as it does here. Although it's easy to speculate that the colossal success of Brothers in Arms relates to it's timing - it's release during an era obsessed with catchy singles, flashy MTV videos, and whistle-friendly melodies - reasons for the album's chart-busting success primarily owe to the expertly crafted songs and memorable playing turned in by a group hitting it's creative peak. Not to mention the spatial dimensions that cause instruments and vocals to naturally float in a fixed area. Anchored by "Money for Nothing," a caustically themed smash immediately identifiable via Mark Knopfler's resonant finger-picked guitar riff and Sting's "I want my MTV" vocal refrain, Dire Straits' fifth album is stuffed with bluesy signatures, jazz-rock motifs, clever lyrics, and organic accents. Diversity and consistency also extend to the songs' moods. Singing with his trademark light-to-the-touch timbre, Knopfler conjures feelings of poignancy, peacefulness, and mellowness, channeling wistfulness on the Top 10 single "So Far Away" and somber assurance on "Why Worry."