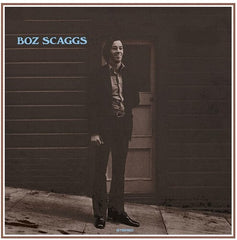 Boz Scaggs: Boz Scaggs 1969 Limited Edition Colored Vinyl Gold Gatefold Jacket LP) 2023 Release Date: 1/13/2023
Limited gold colored vinyl LP pressing housed in gatefold jacket. Boz Scaggs is the second studio album by Boz Scaggs, originally released in 1969. A stylistically diverse album, Boz Scaggs incorporates several genres, including Americana, blue-eyed soul, country, and rhythm and blues.
The lyrics are about typical themes found in blues songs, such as love, regret, guilt, and loss. Scaggs recorded the album at Muscle Shoals Sound Studio with producer Jann Wenner, the co-founder of Rolling Stone magazine. The Muscle Shoals Rhythm Section heavily contributed to the album, which included a young Duane Allman, before his rise to fame with the Allman Brothers Band.
LABEL: Friday Music

UPC: 829421823919

GENRE: Rock

RELEASE DATE: 1/13/2023

PRODUCT ID: FRIM82391.1

WEIGHT: .65 lb