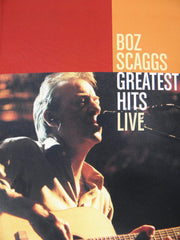 Boz Scaggs: Greatest Hits Live Great American Music Hall San Francisco 2004 DVD 16:9 DTS 5.1 (Recorded In HD) RELEASE DATE: 8/3/2004
Singer-songwriter-guitarist Boz Scaggs has kept a fairly low profile since his heyday in the '70s and '80s--a circumstance more than rectified with Greatest Hits Live, a great-looking, great-sounding concert recorded in San Francisco in 2004.  
For the most part, this is Silk Degrees-style Boz, drawing from a large catalog that favors ballads (some quite lovely, like "Harbor Lights," "We're All Alone," and "Look What You've Done to Me") and deft pop-R&B-jazz à la Steely Dan (albeit with more soul and less verbal wit and sophistication). Rovi Rating:
 But while "Lido Shuffle," and other expected hits are here, so are several grittier, bluesier moments, including Earl King's "It All Went Down the Drain" and extended versions of the big band blues "Runnin' Blue" and the slow lament "Loan Me a Dime" (a tune from Scaggs's 1969 solo album that featured great guitar playing by the late Duane Allman). With a fine band, 16 songs, a running time that approaches two hours, some of the best DVD sound you'll ever hear, and crisp, clear visuals, Greatest Hits Live is a portrait of a veteran, durable artist who's still in his prime. --Sam Graham 
* His first ever live DVD * Filmed in high definition video * Mixed in stereo and surround sound * Bonus features include extra track, 15 minute documentary, and photo gallery From his early days with the Steve Miller Band, to his smash hits as a solo performer, Boz Scaggs has been a respected musician for decades. Greatest Hits Live features Scaggs in concert at the Great American Music Hall in San Francisco, and as Scaggs himself says, "It's not just any band that can pull off this song list." From the jazz-tinged "Harbor Lights," to the desperately blue "Loan Me a Dime," to hit songs including "Lowdown" and "Lido Shuffle," Greatest Hits Live provides a powerful overview of the artist's most recognized work. 
1. Lowdown 
2. Slow Dancer 
3. Heart of Mine 
4. It All Went Down the Drain 
5. Harbor Lights 
6. Jojo 
7. Ask Me 'Bout Nothin' but the Blues 
8. Breakdown Dead Ahead 
9. Look What You've Done To Me 
10. I Just Go 
11. Georgia 
12. Miss Sun 
13. Lido Shuffle 
14. Runnin' Blues 
15. Loan Me a Dime 
16. We're All Alone