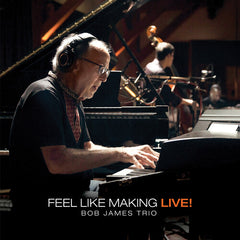 Bob James: Feel Like Making LIVE! (Orange Or Black Vinyl 180 Gram Vinyl Double LP) 2021 Release Date: to 01/28/21
In the eyes of the rap generation, an older musician's hipness is often defined by how many times he or she has been sampled for beats and breaks. That means that keyboard wizard Bob James - whose records have been sampled a staggering 1435 times, according to the website who sampled. Com - is a bona fide legend and cooler than cool. 
Although he's just celebrated his B lst birthday, Bob J ames is not about to close the piano lid for the last time and embrace retirement. Alongside the same trio assist Michael Palazzolo and drummer Billy Kilson that mad e 2018's critically-acclaimed Espresso album, Feel Like Making Live! Captures James performing a career-spanning selection of material live in the studio.
Feel Like Making LIV E! #includes James's most well known hits like Angela, Maputo, Westchester Lady and Na utilus as well as an instrumental cover of Elton John's Rocket M an. This N ew Jazz Trio live-studio recording is released in a 180gram limited numbered black double vinyl LP 
- Disc 1 -

1

 Angela

2

 Rocket Man

3

 Maputo

4

 Topside

5

 Misty

6

 Avabop

7

 Nautilus

8

 Downtown

- Disc 2 -

1

 Niles a Head

2

 Feel Like Making Love/Night Crawler

3

 Submarine

4

 Mister Magic

5

 Nardis

6

 Westchester Lady
LABEL: Evosound 
VENDOR: Evolution Ltd
DISTRIBUTOR: AMPED

UPC: 4895241401589  ORANGE VINYL

GENRE: Jazz

RELEASE DATE: 10/29/2021

PRODUCT ID: EVSU330.1

LAST RETURN DATE: 10/29/2021

THIS PRODUCT IS NON-RETURNABLE

WEIGHT: 1.23 lbs
LABEL: Evosound
VENDOR: Evolution Ltd
DISTRIBUTOR: AMPED

UPC: 4897012137086 BLACK VINYL 

GENRE: Jazz

RELEASE DATE: 10/29/2021

PRODUCT ID: EVSU33.1

LAST RETURN DATE: 10/29/2021

THIS PRODUCT IS NON-RETURNABLE

WEIGHT: 1.22 lbs