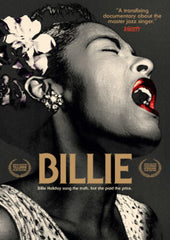 Billie: (DVD) 2019 Release Date: 2/9/2021
Jazz lovers everywhere couldn't wait for this 2019 documentary-and now, it comes to DVD. Many of the interviews featured here were conducted by Linda Lipnack Kuehl, a journalist who set out to write the definitive Billie Holiday biography but died under mysterious circumstances before it was completed.
Linda's story intertwines with Billie's in intriguing fashion, joining interviews with Count Basie, Charles Mingus, Tony Bennett and more including FBI agents who trailed and arrested Holiday. You'll see rare footage of the jazz icon, too, newly restored and beautifully colorized. Greenwich Entertainment.
UPC: 738329252755

Director: James Erskine

Rated: NR

Release Date: 2/9/2021

Product ID: GWC25275DVD

Original Language: ENG

Original Year: 2019

Run Time: 96 minutes

Distributor/Studio: Greenwich

Weight: .16 lb