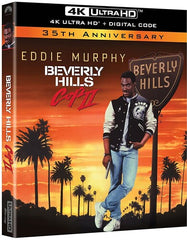 Beverly Hills Cop II: 1987 (4K Ultra HD+Digital Code) Dolby AC-3 4K Ultra HD Rated: R 2022 Release Date: 5/17/2022
The heat is on again in this funny and thrilling sequel! After Captain Bogomil (Ronny Cox) is wounded by a merciless gang of high-tech robbers, Axel Foley (Eddie Murphy) once again travels from Detroit to Beverly Hills to investigate.
Once there, he reteams with detectives Billy Rosewood (Judge Reinhold) and John Taggart (John Ashton) to solve the case. With Jurgen Prochnow, Brigitte Nielsen, Dean Stockwell. 103 min. Widescreen; Soundtracks: English Dolby Digital 5.1, French Dolby Digital 5.1; Subtitles: English, French. 
STARRING: Eddie Murphy, Judge Reinhold, Jürgen Prochnow, Ronny Cox, John Ashton, Brigitte Nielsen, Allen Garfield, Dean Stockwell, Paul Reiser, Gilbert R. Hill

UPC: 191329219966

DIRECTOR: Tony Scott

RATED: R

GENRE: Comedy Video, Action / Adventure
THEME: Summer Blockbusters

RELEASE DATE: 5/17/2022

PRODUCT ID: PRT1000813219UHD

SUBTITLES: FRE

DUBBED: FRE

ORIGINAL LANGUAGE: ENG

ORIGINAL YEAR: 1987

RUN TIME: 103 minutes

DISTRIBUTOR/STUDIO: Paramount

WEIGHT: .18 lb