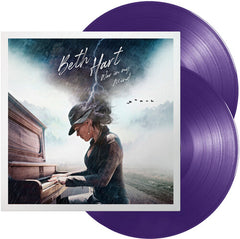 Beth Hart: War In My Mind-Purple (Colored Vinyl Purple 140 Gram Vinyl 2 LP) 2023 Release Date: 3/3/2023

DESCRIPTION
Purple - 140 Gram Vinyl. 2018 was an exceptional year for Beth Hart. She played the biggest headline shows of her career so far, including to 12000 screaming fans in the Ziggo Dome in Amsterdam, a sold-out Royal Albert Hall in London and her first solo tour in the USA, which completely sold out.
Riding high on this success, she's back with a stunning brand new studio album, War In My Mind, on which she has collaborated with Rob Cavallo (Dave Matthews Band, Phil Collins, Green Day, etc). The album sees Hart at her most passionate and emotive yet with bigger shows and festivals planned than ever.
Beth Hart - War In My Mind is now available on vinyl again and for the first time on Purple vinyl! 
- Disc 1 -

1

 Side A: Bad Woman Blues

2

 War in My Mind

3

 Without Words in the Way

4

 Side B: Let It Grow

5

 Try a Little Harder

6

 Sister Dear

- Disc 2 -

1

 Side C: Spanish Lullabies

2

 Rub Me for Luck

3

 Sugar Shack

4

 Side D: Woman Down

5

 Thankful

6

 I Need a Hero