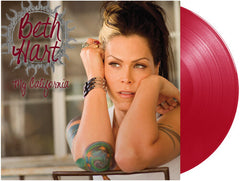 Beth Hart: My California - (Colored Vinyl Red 140 Gram Vinyl LP) 2023 Release Date: 3/3/2023
Description
Transparent Red Vinyl - 140 Gram Vinyl. Beth Hart has been through almost everything. She's tasted the sweetness of success, topping the Billboard charts, and she has clung on to a bottle laying in the gutter.
She has been betrayed by her own mind and she has felt the bliss of mental balance. For periods of time, that is.
My California are stories from life. Beth's life. "Sister Heroine" is about the loss of her sister, Sharon. About being gathered as a family and feeling guilty over talking about the good old days, when someone is missing, even having guilt over feeling joy or laughing. 'Like You and Everyone Else' is about the struggle in dealing with life when the brain's chemical balances keep sending you from one extreme to the next. It's about wishing to be like everyone else, about belonging and in the end coming to terms with the fact that everyone is different somewhere in their lives. There is no doubt that Beth Hart and Rune Westberg have found something really special on My California. Beth Hart - My California is now available on vinyl again and for the first time on Transparent Red vinyl!
1

 Side A: My California

2

 Life Is Calling

3

 Happiness... Any Day Now

4

 Love Is the Hardest

5

 Bad Love Is Good Enough

6

 Drive

7

 Side B: Sister Heroine

8

 Take It Easy on Me

9

 Like You (And Everyone Else)

10

 Everybody Is Sober

11

 Weight of the World